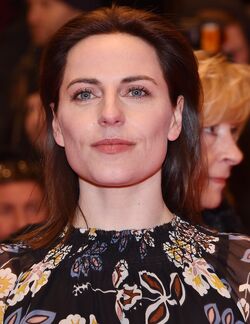 Antje Traue portrayed Faora-Ul in Man of Steel and be reprising her role in the upcoming The Flash
Significant roles
Franziska Teenstätten in Die Nacht davor (2003)
Nadia in Pandorum (2009)
Zoe in Five Days of War (2011)
Kitten in Nobel's Last Will (2012)
Faora-Ul in Man of Steel (2013)
Bony Lizzie in Seventh Son (2015)
Adele Bloch Bauer in Woman in Gold (2015)
Marina in Despite the Falling Snow (2016)
Elsa in Criminal (2016)
Irma Berger in Berlin 1 (2015)
Giselle Neumeyer in Der Fall Barschel (2016)
Sara Keller in Oasis (2017)
Sarah Simon in Good Bye Germany (2017)
Agnes Nielsen in Dark (2017)
Quotes
"I am the right hand of Zod. I'm all the time with him and I'm taking care of him."
"I can jump amazingly high, amazingly fast. I am surprised how strong I am on Earth. Superman is surprised, too."
"She just protects her people, whatever the cost. She's bred as a warrior."
"What I liked about her was that as a woman, we have certain doubts and we think too much sometime about ourselves and all these things, they're not there for Faora. She's a bred warrior. So to really focus on that aspect, that fear is a chemical reaction and that it was bred out of her and she doesn't have it, it's liberating when you actually think about it. That you're just a one-track mind, there's no filter, there's no double-meaning. She gets orders and she answers those orders without a question."