Atlanteans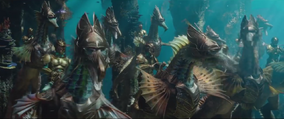 Atlanteans are a race of people from the planet Earth, they live in the underwater world of Atlantis; despite their human appearance, Atlanteans have evolved to the point where they have superhuman physical attributes, can breathe on both land/in the water and can telepathically communicate or understand marine animals.
Powers and abilities
Powers
Atlantean Physiology: Despite their similarities to normal humans, Atlanteans have various inhuman feats; such as superhuman strength, speed, durability, leaping, agility, senses, etc., making them extremely powerful superhumans; especially when they are exposed to water.
Known Atlanteans
Community content is available under
CC-BY-SA
unless otherwise noted.