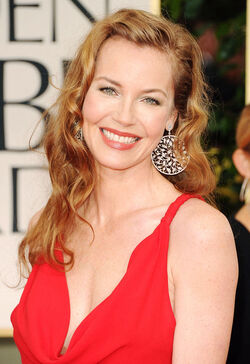 Connie Nielsen portrayed Hippolyta in Wonder Woman and Justice League and will reprise the role in the upcoming Wonder Woman 1984.
Significant roles
Christabella Andreoli in The Devil's Advocate (1997)
Mrs. Calloway in Rushmore (1998)
Sandra in Soldier (1998)
Terri Fisher in Mission to Mars (2000)
Lucilla in The Gladiator (2000)
Nina Yorkin in One Hour Photo (2002)
Diane de Monx in Demonlover (2002)
Abby Durell in The Hunted (2003)
Osborne in Basic (2003)
Sarah in Brødre (2004)
Charlotte Cory in Return to Sender (2004)
Renata Crest in The Ice Harvest (2005)
Detective Dani Beck in Law & Order: Special Victims Unit (2006)
Jean in Battle in Seattle (2007)
Maire in A Shine of Rainbows (2009)
Susanne in Lost in Africa (2010)
Jenny in Perfect Sense (2011)
Meredith Kane in Boss (2011-2012)
Christine Renner in 3 Days to Kill (2014)
Lily Gray in The Following (2014)
Ramona Lytton in The Good Wife (2014-2015)
Quotes
"She is the only child they raised together. And their love for her manifests in a different way for each of them."
Community content is available under
CC-BY-SA
unless otherwise noted.