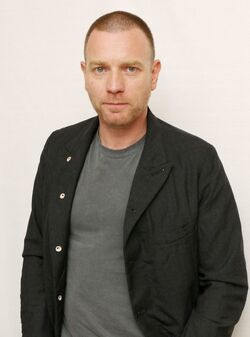 Ewan McGregor will portray Roman Sionis/Black Mask in Birds of Prey (And the Fantabulous Emancipation of One Harley Quinn).
Significant roles
Alvarez in Being Human (1994)
Alex Law in Shallow Grave (1994)
Dean Raymond in Blue Juice (1995)
Mark Renton in Trainspotting (1996)
Jerome in The Pillow Book (1996)
Frank Churchill in Emma (1996)
Andy Barrow in Brassed Off (1996)
Martin Bells in Nightwatch (1997)
Meneer Chrome in The Serpent's Kiss (1997)
Robert Lewis in A Life Less Ordinary (1997)
Curt Wild in Velvet Goldmine (1998)
Billy in Little Voice (1998)
Obi-Wan Kenobi in Star Wars Episode I: The Phantom Menace (1999)
Nick Leeson in Rogue Trader (1999)
Stephen Wilson/The Eye in Eye of the Beholder (1999)
James Joyce in Nora (2000)
Christian in Moulin Rogue! (2001)
SPC John Grimes in Black Hawk Down (2001)
Obi-Wan Kenobi in Star Wars Episode II: Attack of the Clones (2002)
Phil in Solid Geometry (2002)
Catcher Block in Down with Love (2003)
Joe Taylor in Young Adam (2003)
Edward Bloom (young) in Big Fish (2003)
Rodney Copperbottom in Robots (2005)
Obi-Wan Kenobi in Star Wars Episode III: Revenge of the Sith (2005) Phillip Morris
Valiant in Valiant (2005)
Lincoln Six Echo/Tom Lincoln in The Island (2005)
Dr. Sam Foster in Stay (2005)
Ian Rider in Stormbreaker (2006)
Billy in Scenes of a Sexual Nature (2006)
Norman Warne in Miss Potter (2006)
Ian Blane in Cassandra's Dream (2007)
Jasper Black in Incendiary (2008)
Jonathan McQuarry in Deception (2008)
Camerlengo Father Patrick McKenna in Angels & Demons (2009)
Phillip Morris in I Love You Phillip Morris (2009)
Bob Wilton in The Men Who Stare at Goats (2009)
Gene Vidal in Amelia (2009)
The Ghost Writer in The Ghost Writer (2010)
Rory Green in Nanny McPhee and the Big Bang (2010)
Chris in Jackboots on Whitehall (2010)
Oliver Fields in Beginners (2010)
Michael in Perfect Sense (2011)
Kenneth in Haywire (2011)
Dr. Alfred Jones in Salmon Fishing in the Yemen (2012)
Henry Bennett in The Impossible (2012)
Elmont in Jack the Giant Slayer (2013)
Bill Fordham in August: Osage County (2013)
Cowboy at Fair in A Million Ways to Die in the West (2014)
Brendan Lynch in Son of a Gun (2014)
Inspector Alistair Martland in Mortdecai (2015)
Yeshua / Satan in Last Days in the Desert (2015)
Dave Brill in Miles Ahead (2015)
Obi-Wan Kenobi in Star Wars Episode VII: The Force Awakens
John Bishop in Jane Got a Gun (2016)
Peregrine "Perry" Makepeace in Our Kind of Traitor (2016)
Seymour "Swede" Levov in American Pastoral (2016)
Mark Renton in T2 Trainspotting (2017)
Lumière in Beauty and the Beast (2017)
Cole in Zoe (2018)
Christopher Robin in Christopher Robin (2018)
Danny Torrance in Doctor Sleep (2020)
Quotes
Please add a list of quote from this performer about their work in DC Movies!
Trivia
Community content is available under
CC-BY-SA
unless otherwise noted.