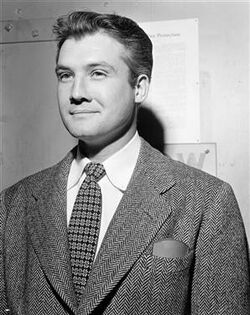 The late George Reeves portrayed Kal-El/Clark Kent/Superman in Superman and the Mole Men and in the TV series The Adventures of Superman.
Significant roles
Pancho Dominguez in Ride, Cowboy, Ride (1939)
John Sturgis in The Monroe Doctrine (1939)
Brent Tarleton in Gone with the Wind (1939)
Jack O'Keefe in The Fighting 69th (1940)
William F. "Buffalo Bill" Cody in Pony Express Days (1940)
Eduardo "El Tigre" Esteban in Argentine Nights (1940)
Michael "Mike" Stevens in Always a Bride (1940)
Jesse James in The Kansan (1943)
Lin Bradley in Bar 20 (1943)
Mike Patton in Jungle Goddess (1948)
Jeff Collins in Thunder in the Pines (1948)
Sir Galahad in The Adventures of Sir Galahad (1949)
Frank Telford in The Silver Theatre (1949-1950)
Wilson in Rancho Notorious (1952)
Lt. Smith in Bugles in the Afternoon (1952)
John Carter in Fireside Theatre (1952)
Kal-El/Clark Kent/Superman in Adventures of Superman (1952-1958)
Captain Sam Haynes in The Blue Gardenia (1953)
Sgt. Maylon Stark in From Here to Eternity (1953)
George Curtland in Forever Female (1953)
Kal-El/Clark Kent/Superman in Stamp Day for Superman (1954)
Kal-El/Clark Kent/Superman in Funny Boners (1955)
James Stephen in Westward Ho, the Wagons! (1956)
Kal-El/Clark Kent/Superman in I Love Lucy (1957)
Quotes
"I hate it. It was far below my dignity. I hated putting on that monkey suit, and I hate all the people screaming "There's Superman!" anytime I walk in."
Community content is available under
CC-BY-SA
unless otherwise noted.