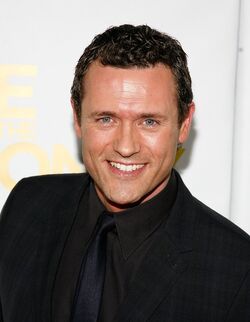 Jason O'Mara voiced Bruce Wayne/Batman in Justice League: War, Son of Batman, Justice League: Throne of Atlantis, Nightwing and Robin, Batman vs. Robin, Batman: Bad Blood, Justice League vs. Teen Titans,Justice League Dark and The Death of Superman, Reign of the Supermen, Batman: Hush and Justice League Dark: Apokolips War.
Significant roles
Please add a list of Jason O'Mara's significant roles!
Quotes
He's Batman, he's badass
(On the Justice Leagues dynamic in Justice League: War) Well the Justice League, isn't really the Justice League, we can still be divided and conquered. But if we come together, as a team. Then,.. We have a chance."
(On getting the role of Batman) Got the call, and they said we want you to play Batman, and I said, well I've got to get training, obviously. And, I have to go for a cape and cowl fitting. Oh, and no no no, I think there picking someone else for that. They want you to play the voice of Batman. And that was even better because I don't have to train, I don't have to wear rubber. So listen it was an absolute thrill and an honor and a kind of call I thought I could never, never get in my career. And of course I jumped at it. Like you guys, I grew up with Batman and many um, many different forms of the media. And it was absolute honor you know. And a lot of pressure though I have to say. You know I kept thinking of you guys. I kept thinking of this moment actually in my nightmares where they show a clip of me playing Batman and all I can hear is like absolute silence for just: "Get off". "Go Away" "Bring Back Kevin Conroy".