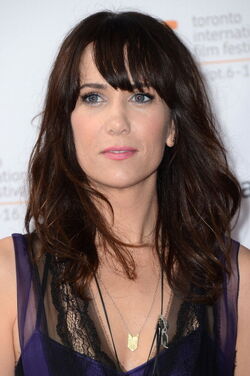 Kristen Wiig will portray Barbara Minerva/Cheetah in the upcoming Wonder Woman 1984.
Significant roles
Dr. Pat in The Joe Schmo Show (2003)
Carole Malone in Unaccompanied Minors (2006)
Jill in Knocked Up (2007)
Jane Whitman in Meet Bill (2007)
Janine in The Brothers Solomon (2007)
Edith Cox in Walk Hard: The Dewey Cox Story (2007)
Bear Handler in Semi-Pro (2008)
Yoga Instructor in Forgetting Sarah Marshall (2008)
Mandy in Pretty Bird (2008)
Surgeon in Ghost Town (2008)
Paulette in Adventureland (2009)
Pudgy Beaver Mom in Ice Age: Dawn of the Dinosaurs (2009)
Maggie Mayhem in Whip It (2009)
Suzie Reynolds in Extract (2009)
Jennifer Gladwell in Bored to Death (2009-2010)
Ruffnut Thorston in How to Train Your Dragon (2010)
Haley Sullivan in Date Night (2010)
Vicki St. Elmo in MacGruber (2010)
Miss Hattie in Despicable Me (2010)
Lauren Fleck in All Good Things (2010)
Ruth Buggs in Paul (2011)
Annie Walker in Bridesmaids (2011)
Lola Bunny in The Looney Tunes Show (2011–2014)
Missy in Friends with Kids (2012)
Angela in Revenge for Jolly! (2012)
Imogene in Girl Most Likely (2013)
Young Lucille Bluth in Arrested Development (2013)
Agent Lucy Wilde in Despicable Me 2 (2013)
SexyKitten in Her (2013)
Cheryl Melhoff in The Secret Life of Walter Mitty (2013)
Chani in Anchorman 2: The Legend Continues (2013)
Johanna Parry in Hateship, Loveship (2014)
Maggie in The Skeleton Twins (2014)
Ruffnut Thorston in How to Train Your Dragon 2 (2014)
Cynthia Morehouse in The Spoils of Babylon (2014)
Alice Klieg in Welcome to Me (2015)
Charlotte in The Diary of a Teenage Girl (2015)
Polly in Nasty Baby (2015)
Annie Montrose in The Martian (2015)
Sarah Benson in A Deadly Adoption (2015)
Delores O'Dell in The Spoils Before Dying (2015)
Courtney in Wet Hot American Summer: First Day of Camp (2015)
Alexanya Atoz / Katinka in Zoolander 2 (2016)
Dr. Erin Gilbert in Ghostbusters (2016)
Brenda in Sausage Party (2016)
Kelly in Masterminds (2016)
Pamela Brinton in The Last Man on Earth (2017)
Agent Lucy Wilde in Despicable Me 2 (2017)
Audrey Safranek in Downsizing (2017)
Herald in Mother! (2017)
Audrey in Where'd You Go, Bernadette (2018)
Quotes
Please add a list of quote from this performer about their work in DC Movies!
Community content is available under
CC-BY-SA
unless otherwise noted.