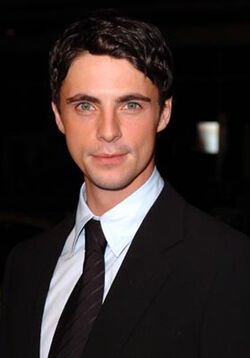 Matthew Goode portrayed Adrian Veidt/Ozymandias in Watchmen.
Significant roles
Casper in Confessions of an Ugly Stepsister (2002)
Ben Calder in Chasing Liberty (2004)
Brooke Burgess in He Knew He Was Right (2004)
Patrick Simmons in Agatha Christie Marple: A Murder Is Announced (2005)
Tom Hewett in Match Point (2005)
Heck in Imagine Me & You (2005)
Larry Durrel in My Family and Other Animals (2005)
Gary Spargo in The Lookout (2007)
Charles Ryder in Brideshead Revisited (2008)
Adrian Veidt/Ozymandias in Watchmen (2009)
Jim in A Single Man (2009)
Declan in Leap Year (2010)
Mike Ramsay in Cemetery Junction (2010)
Captain Gray in Birdsong (2012)
Charles Stoker in Stoker (2013)
Stanley in Dancing on the Edge (2013)
Hugh Alexander in The Imitation Game (2014)
Quotes
"I wasn't convinced that I was the right choice to play him. And there were a couple of remarks I made in a very off-hand, facetious, jokey way, 'What if the fanboys don't like you?' 'Well, they can all line up and ...,' you know. I think we know that quote. I love literature and when I see things made into films, I worry about the casting, too. I think the fact that I was the only one out of all of the characters that Zack Snyder thought outside-the-box for: he cast it younger and different. Everyone else was pretty much bang-on -- and age bang-on as well. I was too skinny, I was 20 years ... whatever. So, that led me to kind of over-think it in some ways and give myself more of a backstory. I don't know. I think the film will age well."
External links
Community content is available under
CC-BY-SA
unless otherwise noted.