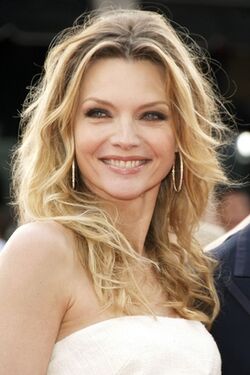 Michelle Pfeiffer portrayed Selina Kyle/Catwoman in Batman Returns and Lamia in Stardust.
Significant roles
The Bombshell in Delta House (1979)
Ginny Stamper in Splendor in the Grass (1981)
Stephanie Zinone in Grease 2 (1982)
Elvira Hancock in Scarface (1983)
Isabeau d'Anjou in Ladyhawke (1985)
Faith Healey in Sweet Liberty (1986)
Sukie Ridgemont in The Witches of Eastwick (1987)
Angela de Marco in Married to the Mob (1988)
Jo Ann Vallenari in Tequila Connection (1988)
Madame de Tourvel in Dangerous Liaisons (1988)
Susie Diamond in The Fabulous Baker Boys (1989)
Katya Orlova in The Russia House (1990)
Frankie in Frankie and Johnny (1991)
Selina Kyle/Catwoman in Batman Returns (1992)
Laurene Hallett in Love Field (1992)
Ellen Olenska in The Age of Innocence (1993)
Laura Alden in Wolf (1994)
Louanne Johnson in Dangerous Minds (1995)
Sally "Tally" Atwater in Up Close & Personal (1996)
Melanie Parker in One Fine Day (1996)
Rose Cook Lewis in A Thousand Acres (1997)
Tzipporah in The Prince of Egypt (1998)
Beth Cappadora in The Deep End of the Ocean (1999)
Titania in A Midsummer's Night Dream (1999)
Katie Jordan in The Story of Us (1999)
Claire Spencer in What Lies Beneath (2000)
Rita Harrison Williams in I Am Sam (2001)
Ingrid Magnussen in White Oleander (2002)
Eris in Sinbad: Legend of the Seven Seas (2003)
Rosie in 2 Young 4 Me (2007)
Velma Von Tussel in Hairspray (2007)
Lea de Lonval in Chéri (2009)
Linda in Personal Effects (2009)
Quotes
"It was incredibly difficult to work with the costume at first! (laughs)"
"Immediately. I was halfway through the script when I said yes. Someone else was cast in the part and I remember being absolutely devastated and calling my agent and saying, 'How have I not had a meeting about this? Why have I not heard about it?' It was one of those things where Tim had someone in mind and went directly to them. So I was really bummed, but it was okay. When she [Annette Bening] fell out of it I was just leaving the country and got a call to say Tim wanted to meet me. So I went and he gave me the script and I got halfway through and said yes. But you know, honestly, I would have done it anyway, even without reading the script. But I was very happy that she was actually very well written."
"I think that she was someone so dark. Dark characters are always more interesting and she's really very dark. That whole split personality is interesting."
"For a while, like a brief time, Tim was interested in maybe doing a Catwoman movie, but that didn't really last very long."
"Oh, I think she's great. I'm actually very much looking forward to seeing her in the role. I'm a big fan of hers and I think she has everything you need for that role. She has the humour, she can go to dark places, she's obviously very talented. I think she's going to be really good."
"Probably, if they asked me [to play Catwoman again]. It's unlikely that they're going to ask me."
"The costume was probably really unhealthy and it would literally just start to squeeze my skin. I was only allowed to wear it for so many hours."
Community content is available under
CC-BY-SA
unless otherwise noted.