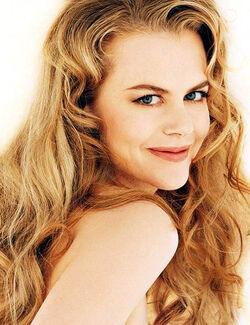 Nicole Kidman portrayed Chase Meridian in Batman Forever and Atlanna in Aquaman.
Significant roles
Judy in BMX Bandits (1983)
Annie in Five Mile Creek (1985)
Rae Ingram in Dead Calm (1989)
Dr. Claire Lewicki in Days of Thunder (1990)
Nicola in Flirting (1991)
Drew Preston in Billy Bathgate (1991)
Shannon Christie in Far and Away (1992)
Tracy Kennsinger in Malice (1993)
Gail Jones in My Life (1993)
Suzanne Stone Maretto in To Die For (1995)
Dr. Chase Meridian in Batman Forever (1995)
Isabel Archer in The Portrait of a Lady (1996)
Dr. Julia Kelly in The Peacemaker (1997)
Gillian Owens in Practical Magic (1998)
Alice Harford in Eyes Wide Shut (1999)
Satine in Moulin Rouge! (2001)
Grace Stewart in The Others (2001)
Virginia Woolf in The Hours(2002)
Grace Margaret Mulligan in Dogville (2003)
Faunia Farley in The Human Stain (2003)
Ada Monroe in Cold Mountain (2003)
Joanna Eberhart in The Stepford Wives (2004)
Anna in Birth (2004)
Silvia Broome in The Interpreter (2005)
Isabel Bigelow/Samantha in Bewitched (2005)
Diane Arbus in Fur (2006)
Norma Jean in Happy Feet (2006)
Carol Bennell in Invasion (2007)
Margot in Margot at the Wedding (2007)
Marisa Coulter in The Golden Compass (2007)
Lady Sarah Ashley in Australia (2008)
Claudia in Nine (2009)
Becca in Rabbit Hole (2010)
Devlin Adams in Just Go with It (2011)
Martha Gellhorn in Hemingway & Gellhorn (2011)
Quotes
"The reason why I love it is James Wan is an Australian, and I've followed his career since he started. He's a really good friend of mine, and he offered to let me play Queen Atlanna. As soon as he said I could wear mother-of-pearl and be a mermaid warrior, I said I'm done. Please. If there is one thing I have to do in my life, I have to be that. [Laughs] Because, you've got to have some fun."
Community content is available under
CC-BY-SA
unless otherwise noted.