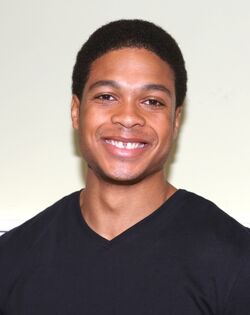 Ray Fisher portrayed Victor Stone/Cyborg in Batman v Superman: Dawn of Justice, Justice League and will reprise the role in The Flash, and Cyborg.
Significant roles
Patient in The Good, the Bad and the Confused (2008)
Quotes
"I didn't know the extent to which DC and WB had planned on taking my character. When I signed on, I just wanted to be part of this world. But that specific information, I found out then and there. I didn't think I'd be getting my own stand-alone film."
"I met everyone in the Justice League except Henry Cavill and Ezra Miller. It was surreal. You get this idea of going to work on a Hollywood set as being really stressful and nerve-wracking. But it blew that stereotype away. If they did have stressful times, it wasn't while I was there."
"Let me tell you, man: people are in for a hell of a treat."
"I actually grew up watching a lot of these cartoons - a lot of the animated series. Batman: The Animated Series, Justice League, all the stuff that would come onto Cartoon Network. My first encounter with Cyborg was through the Teen Titans cartoon. You know, I was in the middle of high school, and I was like, 'This show speaks to me' because there were all of these characters going through these real teen issues while also saving the world. The extent of my knowledge was just about that. Once I was cast, though, they send you a whole library of stuff about the character so I ended up being able to fall in love with the comic book version which can be very different. I feel like I know him like the back of my hand, but there's always somebody who knows a little more than me about things."
Community content is available under
CC-BY-SA
unless otherwise noted.