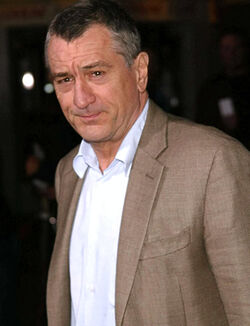 Robert DeNiro portrayed Captain Shakespeare of the Caspartine in Stardust and will appear in the upcoming Joker.
Significant roles
Bruce Pearson in Bang the Drum Slowly (1973)
John "Johnny Boy" Civello in Mean Streets (1973)
Vito Corleone in The Godfather Part II (1974)
Travis Bickle in Taxi Driver (1976)
Jimmy Doyle in New York, New York (1977)
Michael Vronsky in The Deer Hunter (1978)
Jake LaMotta in Raging Bull (1980)
Rupert Pupkin in The King of Comedy (1982)
David "Noodles" Aaronson in Once Upon a Time in America (1984)
Al Capone in The Untouchables (1987)
James "Jimmy the Gent" Conway in Goodfellas (1990)
Leonard Lowe in Awakenings (1990)
Donald Rimgale in Backdraft (1991)
Max Cady in Cape Fear (1991)
Lorenzo Anello in A Bronx Tale (1993)
Sam "Ace" Rothstein in Casino (1995)
Neil McCauley in Heat (1995)
Gilbert "Gil" Renard in The Fan (1996)
Dr. Wally in Marvin's Room (1996)
Moe Tilden in Cop Land (1997)
Louis Gara in Jackie Brown (1997)
Arthur Lustig in Great Expectations (1998)
Sam Regazolli in Ronin (1998)
Paul Vitti in Analyze This (1999)
Master Chief Leslie Sunday Men of Honor (2000)
Jack Byrnes in Meet the Parents (2000)
Paul Vitti in Analyze That (1999)
Jack Byrnes in Meet the Fockers (2004)
General Bill Sullivan in The Good Shepherd (2006)
Jack Byrnes in Little Fockers (2010)
Carl Van Loon in Limitless (2011)
Pat Solitano, Sr. in Silver Linings Playbook (2012)
Victor Tellegio in American Hustle (2013)
Billy "The Kid" McDonnen in Grudge Match (2013)
Ben Whittaker in The Intern (2015)
Rudy Mangano in Joy (2015)
Dick Kelly in Dirty Grandpa (2016)
Ray Arcel in Hands of Stone (2016)
Jackie Burke in The Comedian (2016)
Frank "The Irishman" Sheeran in The Irishman (2019)
Quotes
Please add some quotes from this performer about their work in DC movies!
Community content is available under
CC-BY-SA
unless otherwise noted.