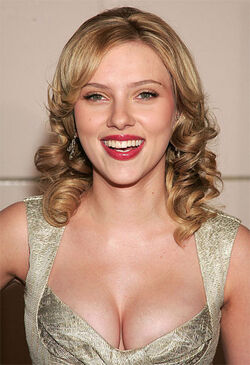 Scarlett Johansson portrayed Silken Floss in The Spirit.
Significant roles
Laura Nelson in North (1994)
Katie Armstrong in Just Cause (1995)
Emily in It Lucy Fell (1996)
Molly Pruitt in Home Alone 3 (1997)
Grace MacLean in The Horse Whisperer (1998)
Kathy Caldwell in My Brother the Pig (1998)
Birdy Abundas in The Man Who Wasn't There (2001)
Rebecca in Ghost World (2001)
15 year old Suzanne in An American Rhapsody (2001)
Ashley Parker in Eight Legged Freaks (2002)
Charlotte in Lost in Translation (2003)
Griet in Girl with a Pearl Earring (2003)
Meg Windermere in A Good Woman (2004)
Jordan Two Delta/Sarah Jordan in The Island (2005)
Olivia Wenscombe in The Prestige (2006)
Annie Braddock in The Nanny Diaries (2007)
Mary Boleyn in The Other Boleyn Girl (2008)
Silken Floss in The Spirit (2008)
Anna Marks in He's Just Not That Into You (2009)
Natalie Rushman/Natasha Romanoff/Black Widow in Iron Man 2 (2010)
Kelly Foster in "We Bought a Zoo" (2011)
Natasha Romanoff/Black Widow in The Avengers (2012)
Quotes
Please add quotes about their work in DC movies!
Trivia
Scarlett was married to Green Lantern actor Ryan Reynolds.
External links
Community content is available under
CC-BY-SA
unless otherwise noted.