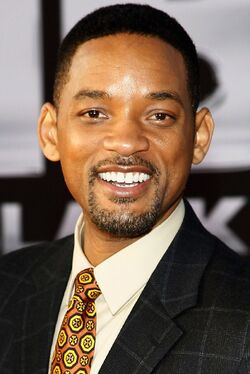 Will Smith portrayed Floyd Lawton/Deadshot in Suicide Squad.
Significant roles
William "Will" Smith in The Fresh Prince of Bel Air (1990-1996)
Tea Cake Walters in Made in America (1993)
Paul in Six Degrees of Separation (1993)
Mike Lowery in Bad Boys (1995)
Captain Steven Hilley in Independence Day (1996)
Pinocchio in Happily Ever After: Fairy Tales for Evey Child (1997)
James Darrell Edwards III/Agent J in Men in Black (1997)
Robert Clayton Dean in Enemy of the State (1998)
Capt. James West in Wild Wild West (1999)
Bagger Vance in The Legend of Bagger Vance (2000)
Cassius Clay/Muhammad Ali in Ali (2001)
James Darrell Edwards III/Agent J in Men in Black II (2002)
Det. Mike Lowery in Bad Boys II (2003)
Del Spooner in I, Robot (2004)
Oscar in Shark Tale (2004)
Hitch in Hitch (2005)
Chris Gardener in The Pursuit of Happyness (2006)
Robert Neville in I Am Legend (2007)
John Hancock in Hancock (2008)
Ben in Seven Souls (2008)
James Darrell Edwards III/Agent J in Men in Black 3 (2012)
Cypher Raige in After Earth (2013)
Nicky in Focus (2015)
Bennet Omalu in Concussion (2015)
Floyd Lawton/Deadshot in Suicide Squad (2016)
Howard Inlet in Collateral Beauty (2016)
Daryl Ward in Bright (2017)
The Genie in Aladdin (2019)
Quotes
"We've still got to get it right. This happens all the time. People act like, 'Oh my god, the movie must be ending!' It's just the deal with movies."
"He turned the screenplay in before Christmas. What happens is Hollywood shuts down. But he was still working and he wanted to (start shooting) April 13th. So it takes a couple weeks to gear back up at the top of the year and people have taken (other) movies. He's moving really quickly."
"I started before Christmas. No carbs on Christmas! It was terrible."
"With this character and the DC world, I love that I'm getting the opportunity for the global definition of Deadshot. There's been Deadshot in little appearances here and there, there's an idea, but Deadshot isn't defined, really. I get to be a part of the creation that will be the biggest historical image of Deadshot."
"I've never actually met Jared Leto. We worked together for 6 months and we've never exchanged a word outside of 'Action!' and 'Cut!' We've never said 'Hello,' we've never said 'Good day.' I've only ever spoken to him as Deadshot and him as the Joker. I literally have not met him yet. So, the first time I see him will be 'Hey, Jared. What's up?' Not a single word exchanged off camera. He was all in on the Joker... I'm looking forward to meeting him."
"As the movie opens, he has a really big career score. He's looking to turn over a new leaf with his daughter after the hit, but it goes wrong. It goes terribly, terribly wrong. And it lands him in Belle Reve for life."
"I had never played a character that legitimately didn't give a f*&k. It's very freeing not having to carry the moral spine of the movie."
"I couldn't find a model to understand what would make someone comfortable killing another person for money. David walked me through that. He found a book for me, The Anatomy of Motive by John Douglas, and I worked through getting into the mind of serial killers. Once I accepted that it feels good, that really exploded the idea in my mind of Deadshot."
"At the end of the day critical acclaim is really nice, but we made it for the fans. If the fans like it then we did our job. I think people had expectations that may have been different, but I'm excited for the fans to get to vote."
"I'd definitely love to be in it. I love Margot Robbie. I will do, like, anything she wants to do. That didn't come out, but… it probably did. It probably came out exactly how I meant it."
Community content is available under
CC-BY-SA
unless otherwise noted.