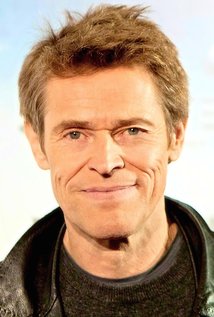 Willem Dafoe portrayed Nuidis Vulko in Aquaman.
Significant roles
Eric "Rick" Masters in To Live and Die in L.A. (1985)
Sgt. Elias in Platoon (1986)
Jesus in The Last Temptation of Christ (1988)
Salamo Arouch in Mississipi Burning (1989)
Frank Dulaney in Body of Evidence (1993)
Tom Eliot in Tom & Viv (1994)
David Caravaggio in The English Patient (1995)
John Geiger in Speed 2: Cruise Control (1997)
X in New Rose Hotel (1998)
Gas in eXistenZ (1999)
Det. Donald Kimball in American Psycho (2000)
Max Schreck in Shadow of a Vampire (2000)
Norman Osborn/Green Goblin in Spider-Man (2002)
Gill in Finding Nemo (2003)
Barillo in Once Upon a Time in Mexico (2003)
Roland Sweet in The Aviator (2004)
Norman Osborn in Spider-Man 2 (2004)
Capt. John Darius in Inside Man (2006)
Carson Clay in Mr. Bean's Holiday (2007)
Ray Ruby in Go Go Tales (2007)
Norman Osborn in Spider-Man 3 (2007)
He in Antichrist (2009)
Rat in Fantastic Mr. Fox (2009)
Gavner Purl in Cirque du Freak: The Vampire's Assistant (2009)
Eddie in Miral (2010)
Cisco in 4:44 Last Day on Earth (2011)
Tars Tarkas in John Carter (2012)
The Buddha in Tomorrow You're Gone (2012)
L in Nymphomaniac (2013)
Tommy Brue in A Most Wanted Man (2014)
Jopling in Grand Budapest Hotel (2014)
Pier Paolo Pasolini in Pasolini (2014)
Gill in Finding Dory (2016)
Quotes
"She looks good. (Laughs) I don't want to talk about that. I've got so many movies to talk about. I'll let them orchestrate the publicity on that movie. I'm happy to be a part of it and when it comes out I'll be talking about it ad nausea. I shot part of it and I'll go back and shoot some more. This is a DC Comics Justice League movie. Which is shooting now. Too soon to talk about."
"It's more possible to make a personal, integrated film at a lower budget because you are responsible to less people to explain to them what it is. You don't have to be so careful and so calculating. For a bigger budget you can make a more personal film, but it's more difficult because you have to pay off the investment so you have to have it appeal to a lot of people. So, generally, I think I'm less involved in that because I think movies as their best really challenge how we think."
"Well, Justice League is very particular because it's an ensemble movie and my character is being introduced here in order to be a principal role in Aquaman."
"These films are a different experience. They have different responsibilities, different resources and different intentions. It's nice to go between those worlds if you can. They serve different impulses."
Community content is available under
CC-BY-SA
unless otherwise noted.